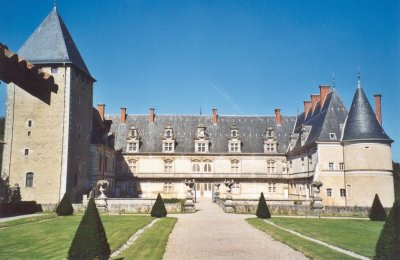 The chateaux of Fléville and Lunéville
Only 30 minutes from your hotel La Haie des Vignes in Lorraine are two châteaux that should not be missed: those of Fléville and Lunéville.
Château de Fléville, 26 minutes from your hotel near Nancy
The château of Fléville dates from 1533 and has a superb feudal keep from 1320, 30 meters high, backed by a beautiful Renaissance facade often compared to Azay-le-Rideau. Inside, you'll find an amazing collection of 18th century tapestries, Renaissance woodwork, a chapel, the Hall of the States of Lorraine, as well as the bedroom of Stanislas Leszczyński, King of Poland and last Duke of Lorraine. It has been inhabited by the Label de Lambel family since 1812.
Lunéville château, 40 minutes from your hotel restaurant in Lorraine
This château dates from the 18th century when the Duke of Lorraine Léopold I decided to build a château, inspired by the palace of Louis XIV, to settle in Lunéville with its court. Classified as a "historic monument", it offers restored rooms, temporary exhibitions and the magnificent Parc des Bosquets.