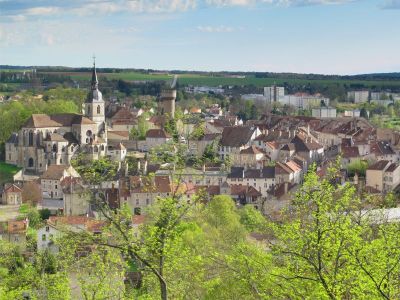 Neufchâteau
A pedestrian city, the city of Neufchâteau is full of architectural and historical treasures. Classified as the premier heritage site in the Vosges, the town draws part of its wealth from the buildings built between the 16th and 18th centuries and its two churches. That of Saint-Christophe is home to a masterpiece that is unique in Europe: the Wiriot chapel with its vaulting, with descending keystones. The current Le Scala cinema has the particularity of being located in the wing of a former monastery, transformed into an Italian-style theater.
Discover Neufchâteau, birthplace of Joan of Arc, from your hotel near Nancy
It takes less than 30 minutes from your hotel-restaurant in Allain in Lorraine to reach the city of Neufchâteau. Here you'll find the plowman's house where the famous Joan of Arc was born. While the facade traces the six centuries of this house, its four interior rooms, small and sober, invite the visitor to meditate, in the footsteps of a young girl who has become a world famous heroine.
Must-sees in Neufchâteau:
Crystal factory in Vannes-le-Châtel
City of Grand, Gallo-Roman site
Domrémy-la-Pucelle, city of Joan of Arc
Explore the Saintois region