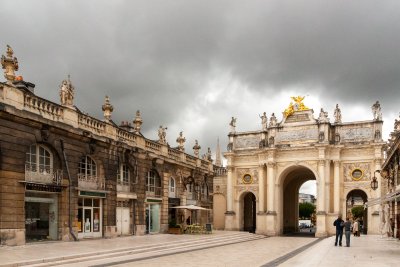 Nancy and its surroundings
Nancy is one of the most beautiful towns in Lorraine, where you can immerse yourself in the rich history of the Dukes of Lorraine but also in the art de vivre of this alluring region. Fans of architecture will be delighted by this this astonishing city, which combines Renaissance style, Art Nouveau and Art Deco.
Visit Nancy from your hotel in Allain in Lorraine
It takes less than 30 minutes by car to reach the city of Nancy. Once there, visit the historic city center with the Régin Datin quarry square, the Sauruptrue GL Clinchant Park, the Sainte Therese Villers church and lose yourself in the many enchanting little alleys. You can also take the little train and quietly walk past the 18th century architectural ensembles and the Old Town.
Must-sees in Nancy:
Place Stanislas
The Art Nouveau course and the Nancy school
The Lorraine Museum
Villa Majorelle
Theme parks and gardens
The gourmet specialties of Lorraine: Macaroons, mirabelles, bergamots ...
The Opera of Nancy